Exploring the Use of the Web Audio API to Improve Chart Accessibility
| Month | Searches |
| --- | --- |
| January 2004 | 59 |
| February 2004 | 81 |
| March 2004 | 72 |
| April 2004 | 59 |
| May 2004 | 65 |
| June 2004 | 66 |
| July 2004 | 47 |
| August 2004 | 65 |
| September 2004 | 62 |
| October 2004 | 64 |
| November 2004 | 64 |
| December 2004 | 62 |
| January 2005 | 57 |
| February 2005 | 66 |
| March 2005 | 64 |
| April 2005 | 62 |
| May 2005 | 63 |
| June 2005 | 55 |
| July 2005 | 55 |
| August 2005 | 65 |
| September 2005 | 62 |
| October 2005 | 56 |
| November 2005 | 64 |
| December 2005 | 60 |
| January 2006 | 59 |
| February 2006 | 69 |
| March 2006 | 67 |
| April 2006 | 66 |
| May 2006 | 71 |
| June 2006 | 54 |
| July 2006 | 55 |
| August 2006 | 57 |
| September 2006 | 70 |
| October 2006 | 60 |
| November 2006 | 64 |
| December 2006 | 63 |
| January 2007 | 68 |
| February 2007 | 67 |
| March 2007 | 69 |
| April 2007 | 71 |
| May 2007 | 78 |
| June 2007 | 58 |
| July 2007 | 60 |
| August 2007 | 71 |
| September 2007 | 62 |
| October 2007 | 65 |
| November 2007 | 67 |
| December 2007 | 72 |
| January 2008 | 75 |
| February 2008 | 74 |
| March 2008 | 69 |
| April 2008 | 73 |
| May 2008 | 76 |
| June 2008 | 53 |
| July 2008 | 59 |
| August 2008 | 73 |
| September 2008 | 75 |
| October 2008 | 76 |
| November 2008 | 71 |
| December 2008 | 70 |
| January 2009 | 73 |
| February 2009 | 76 |
| March 2009 | 80 |
| April 2009 | 70 |
| May 2009 | 72 |
| June 2009 | 46 |
| July 2009 | 50 |
| August 2009 | 68 |
| September 2009 | 69 |
| October 2009 | 59 |
| November 2009 | 60 |
| December 2009 | 56 |
| January 2010 | 56 |
| February 2010 | 61 |
| March 2010 | 59 |
| April 2010 | 55 |
| May 2010 | 56 |
| June 2010 | 42 |
| July 2010 | 48 |
| August 2010 | 66 |
| September 2010 | 66 |
| October 2010 | 64 |
| November 2010 | 62 |
| December 2010 | 56 |
| January 2011 | 60 |
| February 2011 | 67 |
| March 2011 | 69 |
| April 2011 | 66 |
| May 2011 | 71 |
| June 2011 | 51 |
| July 2011 | 53 |
| August 2011 | 68 |
| September 2011 | 82 |
| October 2011 | 68 |
| November 2011 | 73 |
| December 2011 | 69 |
| January 2012 | 67 |
| February 2012 | 70 |
| March 2012 | 67 |
| April 2012 | 64 |
| May 2012 | 70 |
| June 2012 | 51 |
| July 2012 | 52 |
| August 2012 | 67 |
| September 2012 | 69 |
| October 2012 | 68 |
| November 2012 | 69 |
| December 2012 | 63 |
| January 2013 | 61 |
| February 2013 | 69 |
| March 2013 | 65 |
| April 2013 | 69 |
| May 2013 | 71 |
| June 2013 | 49 |
| July 2013 | 54 |
| August 2013 | 74 |
| September 2013 | 75 |
| October 2013 | 76 |
| November 2013 | 72 |
| December 2013 | 70 |
| January 2014 | 71 |
| February 2014 | 70 |
| March 2014 | 73 |
| April 2014 | 72 |
| May 2014 | 79 |
| June 2014 | 53 |
| July 2014 | 62 |
| August 2014 | 73 |
| September 2014 | 80 |
| October 2014 | 78 |
| November 2014 | 73 |
| December 2014 | 67 |
| January 2015 | 68 |
| February 2015 | 75 |
| March 2015 | 73 |
| April 2015 | 72 |
| May 2015 | 80 |
| June 2015 | 53 |
| July 2015 | 57 |
| August 2015 | 78 |
| September 2015 | 82 |
| October 2015 | 78 |
| November 2015 | 76 |
| December 2015 | 73 |
| January 2016 | 68 |
| February 2016 | 78 |
Accessibility Barriers
Overview
Navigation
Time to perceive and understand
Interactivity
Barriers for Authors/Developers
Many charts
Many accessibility approaches
Implementation time
Support time
Aims & Approaches
Aims
Improved accessibility

Overview, navigation
Time
Understanding

Adoption
Approaches
Text-based
Semantic
Multimodal
Text-based
Table
Description
Statistical description
Table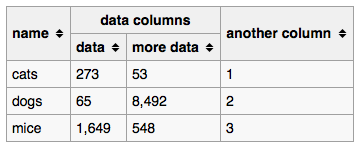 Description
"There is a slight upwards trend, with a slight dip around 2011. There are seasonal variations, with regular troughs in June, but significantly higher interest during the rest of the year."
Statistical description
"The data are approximately normally-distributed with a mean of 42 and a standard deviation of 6."
Semantic
The Sonification Handbook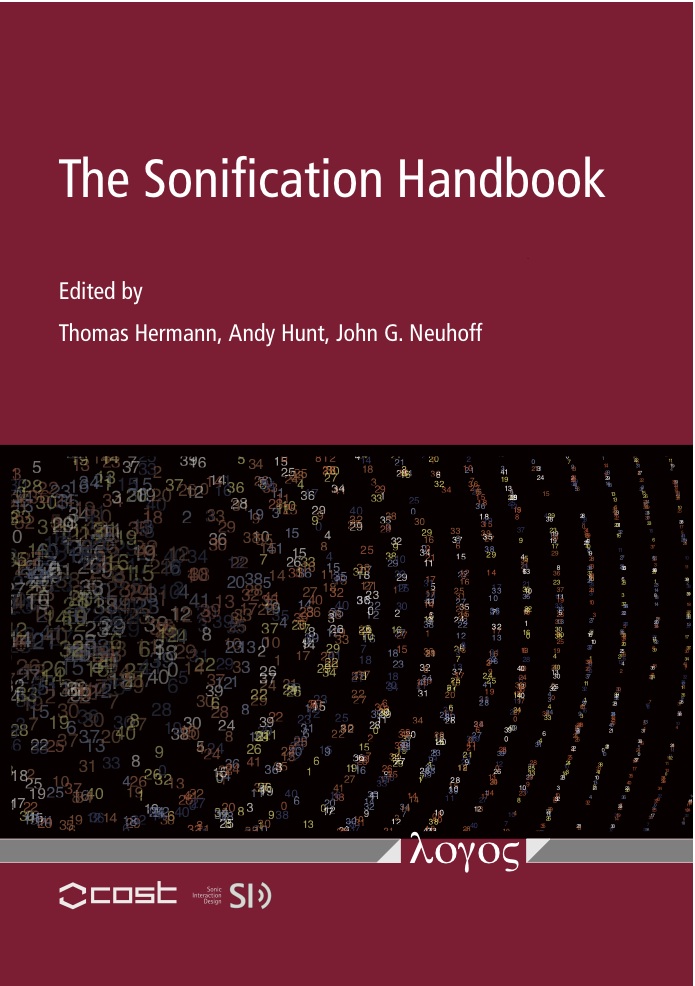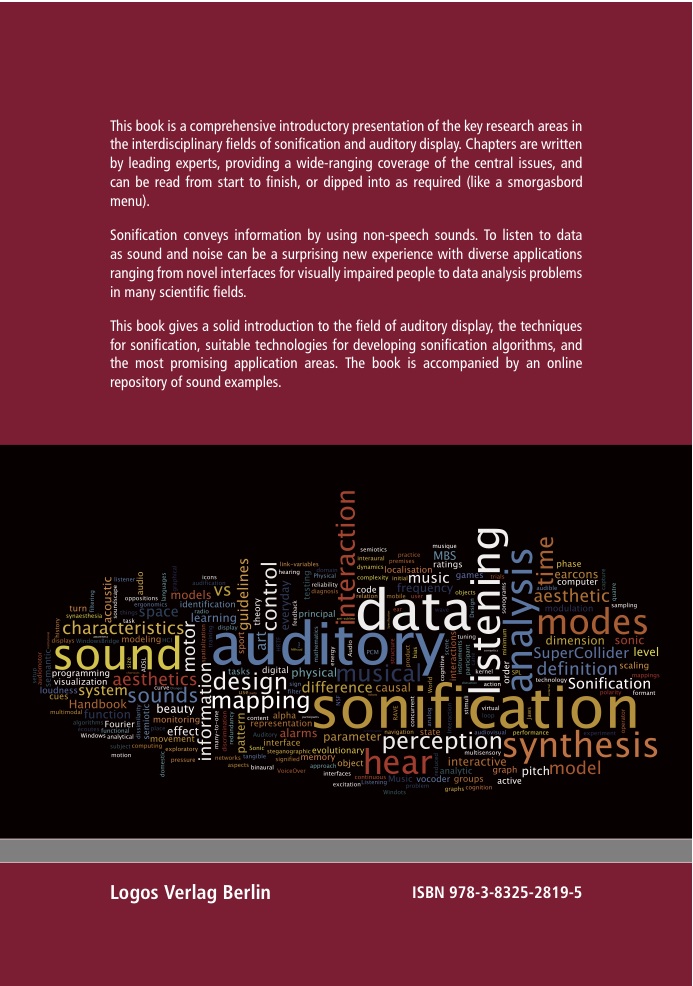 AudioChart
Examples
Test Series
0
42
84
198
84
42
0
AudioChart
Research & Development
Research/Evaluation
…is ongoing
Relation to other approaches
Objective
Subjective
Development
Library (running client-side)
No additional dependencies
Interfaces with chart library
Data-independent
Test-driven
Features Roadmap
Sound output sophistication

Timbre, tempo, grid
Smoothing
Multiple series

Interactivity
Features Roadmap II
Chart libraries (e.g. C3.js, SVG, …)
Browser extension

GreaseMonkey-style apparoch
More customisation?
Use Space or the arrow keys to navigate.